The TPA strikes again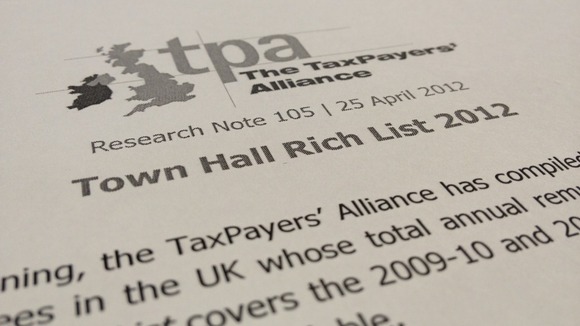 If you are reading this, odds are good that you are well aware of what has been happening over the past few years in local government.  Funding has been slashed, cuts have been implemented and services cut, leading to the recent announcement that £1.4 billion has now been cut from the local government paybill.  This has apparently been made in part by efficiencies, but mostly has been down to the sad spectre of redundancies.
210,000 people have so far lost their jobs over the past couple of years, and there is no end in sight to the challenges.  Services are being stretched to the limit, and council staff are hard pushed to ensure that the most vital are maintained as well as delivering what local people want and need their council to deliver.
So it was with a degree of shock but at the same time no surprise that I came acro ssthe latest rant by the TPAabout the pay of senior officers.  If you are yet to go through it, it's the sixth time they have gone through the accounts of local authorities and released the figures, drawing conclusions and starting arguments.  This is their right to do of course, but their tubthumping approach is less than helpful in the wider conversation.
Dear ITV
Dear ITV,
On Thursday 1 March you broadcast a show which aimed to compare the differences between working for the public sector and the private sector, and claimed to work out who actually has the better deal.  As you may be able to tell from the title of this blog we are pretty interested in this area of discussion, so settled down in front of the tv with our dinners on our laps and eagerly awaited what we expected would be some in-depth and even handed analysis.
It's worth saying that we weren't all at the same place (WLLG Towers is after all a fictional headquarters of a web-based group of anonymous individuals), but you may be surprised to hear that the various authors of this blog soon got in contact with each other and shared their impressions of your investigation and findings.  And would you like to know what our considered opinion of your efforts is?
Well, even if you don't we are going to tell you.  If you are interested in hearing only positive feedback then, like your editing of the Blur show at the Brits, you'd better cut to an all too frequent ad break now.
The Freedom of 'Lazy Journalism' Act
In the publicity surrounding his recently published memoir 'A Journey' Tony Blair was asked if there was anything he regretted from his time in office. Cleverly dodging the obvious answer, 'Iraq', our former Prime Minister surprised the watching masses by answering: 'The Freedom of Information Act'.
Those watching probably responded to this with a big yawn but Mr Blair was 100% right: the FOI Act drives many of us todistraction.
I'm not going to get into the morality of the issue; I personally believe that the more information in the public realm the better but for Local Government staff the morality of the issue is basically besides the point; practically it is a nightmare.
The real problem is that many of the requests we receive are not from concerned citizens but from seriously lazy and, dare I say, incompetent journalists. Not all journalists are lazy or incompetent and some who use the FoI Act do so with devastatingeffectiveness.
However, there are another category and they are just a drain on the public purse.
These so-called 'journalists' waste hours of council time (ironically often searching for examples of council staff wasting their time) and never are they actually searching for information or investigating a story.
Instead, they pre-write their stories and then use the FoI Act to trawl for a fact or two that will justify their prejudices or exaggerations.
Friends and colleagues have moaned to me about this for ages and so a few weeks ago I asked some of them to send me examples from their authorities of this lazy journalism. In the tradition of FoI I've copied some of these below… See if you can guess the story:
Please provide the number of Diversity Officers employed by the council
Please provide the total annual cost of Diversity Officers in 2009/10. This should include, but is not restricted to, salaries, expenses, pensions, travel costs and other remuneration.
Please provide details of the number of staff with the terms "climate change" or "global warming" in their job title or job description.
a)     The job titles and job descriptions for each staff member included above
b)    The total cost of staff with "climate change" or "global warming" in their job title or job description. This should include, but is not restricted to, salaries, expenses, pensions, travel costs and other remuneration.
Has the council made any arrangements or been alerted to arrangements made by the registry office  which allows registry office staff to opt out of performing civil partnerships on religious grounds
Was any same sex couple refused a civil partnership on premises run by the local registry office because individual registrars refused to preside over the service.   Can you please state on how many occasions this happened?
Has the organisation encouraged employees to attend any workshops and or training courses and or role playing sessions designed to improve their understanding of equality and or diversity and or inclusion issues.
Does the council keep documentation which outlines the  rules governing  the flying of flags and or the number of occasions where flags have been flown
Can the council please state on how many occasions it has flown the 'Union Jack' flag.    Can it please provide a list of occasions when the Union Jack has been flown.   If the council has never flown the Union Jack during this period could it please explain why
What is the current highest weekly and or monthly level of housing benefit currently being paid to a claimant and or their landlord?
I am writing to obtain details of the amount of money spent on refreshments. This would include things such as snacks, alcohol and biscuits that are given for free to councillors before or after meetings. It would also include instances where food and drink was provided for entertaining purposes. It would nottherefore include cases where food was brought in to be sold
Under the Freedom of Information Act, please can you tell me whether your council has undergone a "rebranding" exercise since 1st January, 2007?
If so, please provide the costs and a brief summary of the exercise.
The number of staff employed by your local authority in any of the following roles:
climate change officer / worker / champion,
global warming officer / worker / champion,
carbon emissions officer / worker / champion
low carbon officer / worker / champion
carbon offsetting officer / worker / champion
sustainability officer / worker / champion
These are just a small selection of what I've been sent from a very small sample size. Anyone want to guess what stories followed from these FoI requests?
I've also asked my colleagues to nominate the laziest, and most time wasting, journalists. I'll try and collate something for later in the week; if anyone has any to add to this list please do comment below or drop me an e-mail at: This email address is being protected from spambots. You need JavaScript enabled to view it.